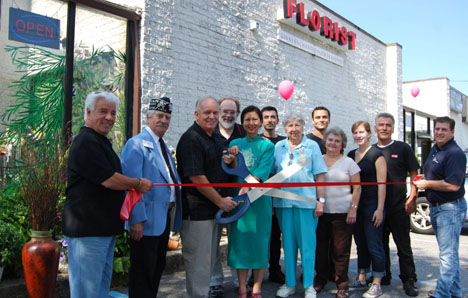 On September 12, Allan M. Dorman, Mayor, Village of Islandia, celebrated the grand reopening of Gina's Enchanted Flower Shoppe, located at 1930 Veterans Memorial Highway. Mayor Dorman joined fellow employees, local war veterans and businesspeople during a ribbon-cutting ceremony in celebration of the event.
Gina's Enchanted Flower Shoppe came to Islandia in 2005 from its previous location on Mount Pleasant Road in Hauppauge. Aside from the visibility along the Veterans Memorial Highway corridor, Gina Lekstutis, Owner, Gina's Enchanted Flower Shoppe, chose the location because it offered more space than the previous location. The Islandia location is 3,500 square feet, as opposed to the Hauppauge location, where it was 900 square feet.
Gina's Flower Shoppe sells a wide array of floral arrangements and gifts. In addition, the store has provided wreaths for the village's Memorial Day and Veterans Day ceremonies which are laid in front of the memorial at the Veterans Memorial Triangle.
This adds to a growing list of businesses coming to Islandia. This year, village officials celebrated the grand reopenings of Sunoco and Bolla Food Market on Motor Parkway and Postal Connections on Veterans Memorial Highway. On August 31, Big Brothers Big Sisters Long Island moved into its new facility on Sycamore Avenue from Hoffman Lane.