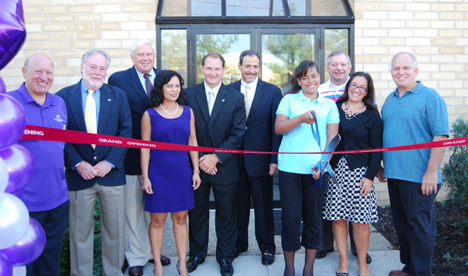 On August 31, Allan M. Dorman, Mayor, Village of Islandia, celebrated the grand opening of Big Brothers Big Sisters of Long Island's (BBBSLI) new facility at 145 Sycamore Avenue. The organization relocated from its previous facility at 85-H Hoffman Lane and moved into its new location in March. Mayor Dorman joined in a ribbon-cutting ceremony in celebration of the event and took a tour of the new facility.
The 13,800-square-foot building houses 70 employees and features conference rooms, a call center, individual offices and a warehouse. The employees comprise of case managers, directors, and warehouse personnel.
The organization relocated in order to take advantage of the economic conditions in the commercial real estate market. Before fulfilling its lease obligation at the Hoffman Lane facility, BBBSLI was able to secure the new location and purchase the building. Future plans for the building include the installation of solar panels to reduce its carbon footprint in the village.
The building also placed clothing bins on its property. Each week, the organization processes 220,000 pounds of donated clothing collected from the bins and local households via their door-to-door pickup service. The Donation Center, in partnership with SAVERS, generates income for the agency's mentoring program. SAVERS, a national thrift store chain with locations in West Hempstead, Holbrook and Medford, purchases and sells the donated clothing collected by BBBSLI.
BBBSLI, a non-profit organization, provides volunteer mentors, or "Bigs," to children in need of an additional positive, caring adult in their lives. These mentors give the support and guidance needed to keep a child on the right path toward promise and possibility.
This adds to a growing list of businesses coming to Islandia. This year, village officials celebrated the grand re-openings of Sunoco and Bolla Food Market on Motor Parkway and Postal Connections on Veterans Memorial Highway. On August 11, the village also celebrated the grand openings of four companies at 1930 Veterans Memorial Highway: The Law Offices of Sharon L. Silver, Esq., North Shore Mediation Center, Franklin First Financial's Application Center and Universal Wellness Center.