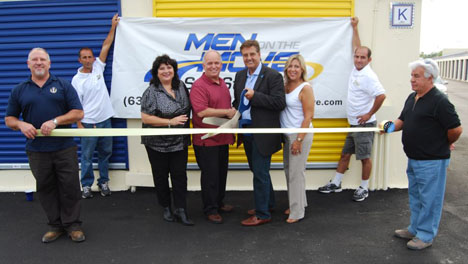 On September 22, Allan M. Dorman, Mayor, Village of Islandia, celebrated the grand opening of Men On The Move, located at 1960 Veterans Memorial Highway. Mayor Dorman joined John Beyer, President, Men On The Move, and fellow employees in celebration of the event.
Men On The Move came to the Village on June 8 to the site of the former Fort Knox facility. The company spent $750,000 in improvements to the site prior to opening, with the repaving of 5.5 acres of asphalt, new roofs on all the storage facilities, new gates for better security upon entry and a state-of-the-art security system. Racanelli Construction, a business partner with Men On The Move, fixed the roofs on the storage facilities.
This is Men On The Move's newest location. The company also has locations in Floral Park and Huntington, with another facility planned for Glen Cove. It offers 24-hour access in a secure setting so people can store or retrieve their belongings any time of day.
This adds to a growing list of businesses coming to Islandia. This year, village officials celebrated the grand reopenings of Sunoco and Bolla Food Market on Motor Parkway and Postal Connections and Gina's Enchanted Flower Shoppe on Veterans Memorial Highway. On August 31, Big Brothers Big Sisters Long Island moved into its new facility on Sycamore Avenue from Hoffman Lane.