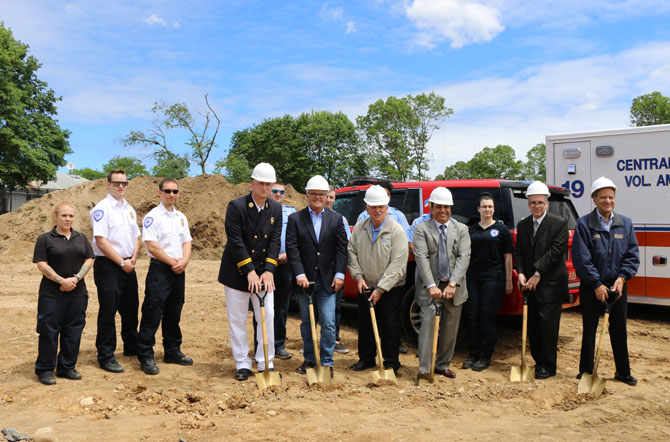 On June 7, Mayor Allan M. Dorman, Village of Islandia, joined Islandia Village Trustees, local elected officials and representatives of Delaware North, Bolla Market and Breslin Realty in the groundbreaking of the First Responders Recreational Ball Field.
The First Responders Recreational Ball Field will feature a state-of-the-art ball field for youth and community baseball and softball games. The redeveloped park will also include a concession stand, restrooms, a playground and an exercise path around the perimeter of the park with 10 different exercise stations.
Delaware North, operator of the new Jake's 58 in Islandia, provided $1.53 million for the completion of the construction and the development of the ball field as part of its Taxpayer Relief Agreement with the village. Bolla Market contributed $500,000 for construction of the restrooms, a storage area and a concession stand. Breslin Realty had also donated $100,000 for the development of the ball field.
In 2014, the park, formerly known as Old Nichols Road Park, was acquired by the village from the Town of Islip with the help of then-Town Supervisor Tom Croci, for the purpose of developing a ball field on an underutilized, dilapidated property.
The acquisition was made possible through the assistance of then-New York State Senator Lee Zeldin and New York State Assemblyman Al Graf, who introduced legislation the previous year to authorize the transfer of ownership of the seven-acre park to the village at no cost. On June 17, 2013, the state Senate passed the bill; four days later, it was approved by the Assembly. On October 21, 2013, Governor Andrew Cuomo signed the bill into law.
"We wish to thank Delaware North, Bolla Market and Breslin Realty for their financial assistance on making this neighborhood baseball field become a reality," Mayor Dorman said. "The park promises to be a place where members of our community will come together to spend time with their children and enjoy the outdoors. It will have the potential to become the focal point of our community, where we will be able to enjoy and improve upon our quality of life that living in a village affords to us."
"Delaware North always establishes strong, cooperative relationships with the communities where we operate, so Delaware North and Jake's 58 are proud to have established a strong relationship with the Village of Islandia and appreciate the village's support," said Brian Hansberry, president of Delaware North's gaming division.
---
Watch Video