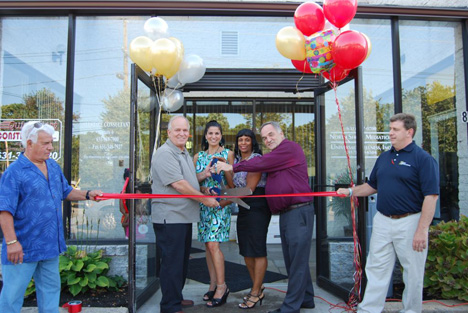 On August 11, Allan M. Dorman, Mayor, Village of Islandia, celebrated the grand opening of four new businesses in the village: The Law Offices of Sharon L. Silver, Esq., LLC; Franklin First Financial; North Shore Mediation Center; and Universal Wellness Center, Inc. The four businesses are currently located at an office suite located at 1930 Veterans Memorial Highway.
The Law Offices of Sharon L. Silver, Esq., which recently relocated from Hauppauge, is a general practice law firm where individual attention is given to each unique situation. The practice maintains a focus on personal injury, business transactions, domestic and family disputes, and real estate matters. Each situation, regardless of its complexity, simplicity, or particular jurisdiction, is provided individualized attention.
North Shore Mediation Center, which came to Islandia from its previous location in Northport, provides alternative arena for the resolution of disputes. North Shore specializes on the individual needs of Long Island residents and related commercial and marital/divorce issues.
Franklin First Financial's Application Center — its first application center in the area — offers government mortgage programs. Franklin is able to meet with new and existing clients during non-traditional hours to accommodate their work schedules and will accept applications over the phone.
On August 11, Universal Wellness Center, Inc. opened its doors. The facility offers a customized multi-tiered program involving mediation, fitness and nutritional counseling, lifestyle makeovers and comprehensive evaluations for stress and emotional issues, including anger management, eating disorders, substance abuse and co-occurring disorders. The program was created by Pamela T. Parker, Universal Wellness Center's Chief Executive Officer and a certified physical trainer.
The companies chose this location because of the visibility from the Veterans Memorial Highway corridor and the proximity to other existing businesses. This adds to a growing list of companies coming to Islandia. This year, village officials celebrated the grand re-openings of Sunoco and Bolla Food Market on Motor Parkway and Postal Connections, which is also located on Veterans Memorial Highway.
After a ribbon cutting ceremony, company employees, their family members and invited guests were treated to beverages, food courtesy of BBQ Brethren and music from DJ Jay Allan.