Veterans Day Ceremony Features Vietnam War-Era Helicopter, USO-Type Entertainment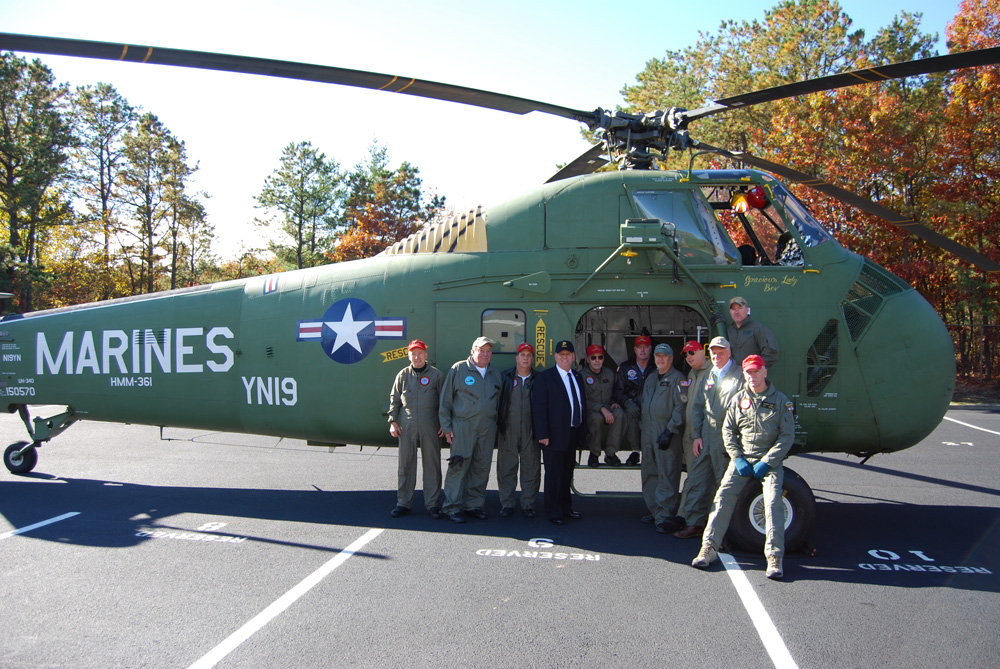 The Village of Islandia honored its war veterans at a special Veterans Day ceremony on November 6. Mayor Allan M. Dorman, a Vietnam War veteran, joined the village board in thanking those who served and those currently enlisted in the armed forces for their service. Members of the New York Honor Guard, the Vietnam Veterans of America, the local Korean War Veterans chapter and the American Legion were in attendance.
The ceremony opened up with a musical performance from the Central Islip High School marching band. During the ceremony, Mayor Dorman announced the addition of a monument at the Veterans Memorial Triangle. The monument lists the names of Islandia residents who proudly served in our armed forces during wartime.
Members of Marine Helicopter Squadron 361 Veterans Association, Inc., a non-profit association based in Cutchogue, flew in a Sikorsky UH-34D helicopter for this special event and touched down at the village hall parking lot. This helicopter was used for combat rescue missions during the Vietnam War. Residents got a chance to take a peek inside a major piece of military history.
Those in attendance were treated to a cold brunch served by village employees and USO-type entertainment performed by "The Victory Belles" under the big tent. Brunch and entertainment were sponsored by Computer Associates and Cablevision.
Local elected officials were also on hand for this special day. Suffolk County Executive Steve Levy presented Mayor Dorman with a proclamation in honor of this event.
---
Photo Gallery