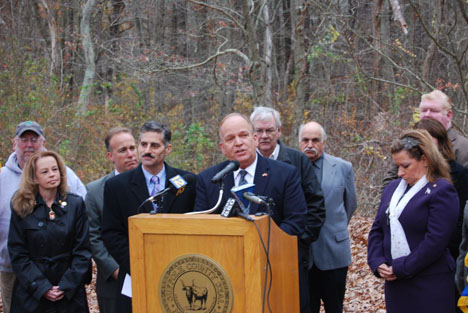 On November 10, Allan M. Dorman, Mayor, Village of Islandia, joined Suffolk County Executive Steve Levy, local elected officials, war veterans and Gold Star parents in a ceremony at Lakeland County Park in Islandia in which Mr. Levy announced, in commemoration of Veterans Day, he will introduce legislation to establish a Suffolk County Purple Heart Trail at the park. The Suffolk County Purple Heart Trail is the first county memorial dedicated to Suffolk's Purple Heart recipients.
Lakeland County Park was chosen to host the first Suffolk County Purple Heart Trail because of its handicap accessibility, which allows all of Suffolk's veterans the greatest accessibility in visiting the park.
"I consider it an honor for the county executive to establish a Suffolk County Purple Heart Trail at this park here in Islandia," said Mayor Dorman, a Vietnam War veteran. "This trail is a perfect way to honor those who served during wartime, especially some of our village residents who also happen to be veterans."
"The men and women who have given their life for our country, those who have served and survived — all those who have worn the uniform honorably in defense of our nation — are remembered here today," said Levy. "We extend today a special recognition to those Suffolk residents who have received the military honor of the Purple Heart and will forever remember them through this Suffolk County Purple Heart Trail."
After the ceremony, Mayor Dorman joined in the unveiling of the flag with the phrase "Honor and Remember." The flag was designed by George Lutz, a Gold Star Father whose son was killed in action in 2002.