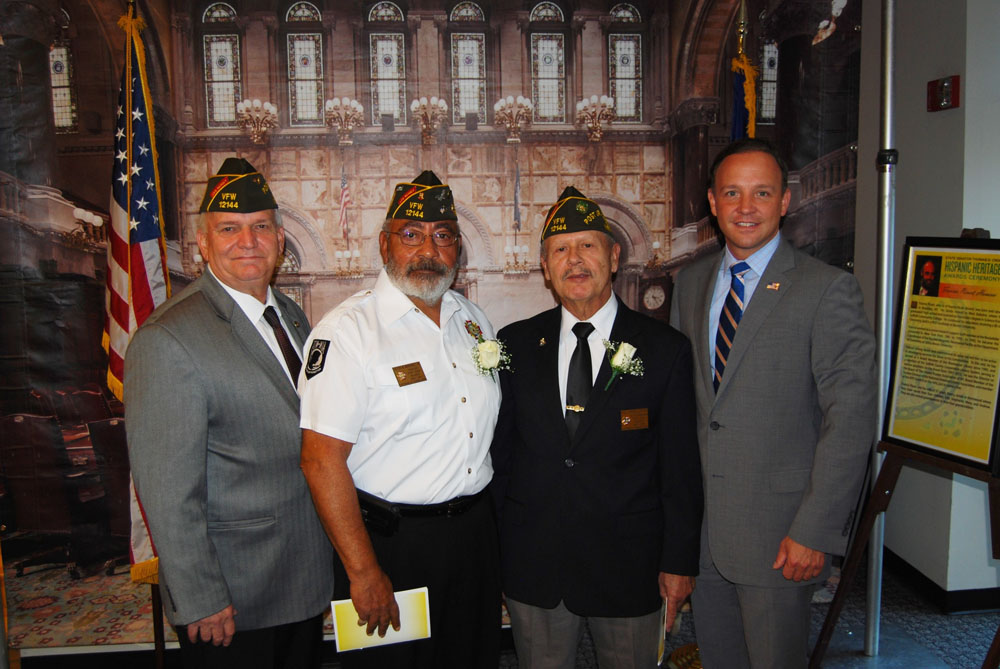 On September 23, two Islandia residents — Victor Montanez and Raul Jimenez Cintron — were honored at the Hispanic Heritage Awards Ceremony at Sachem Public Library in Holbrook. The event was presented by the Office of New York State Senator Thomas D. Croci.
Mr. Montanez and Mr. Cintron, who are also members of Col. Francis S. Midura Veterans of Foreign Wars Post #12144 in Islandia, were two of seven honorees who were recognized for their dedication to improving their local communities and serving as role models in the Hispanic community. The pair was nominated by Islandia Mayor Allan M. Dorman for the honor.
A 43-year Village resident, Mr. Montanez was born in the Bronx. He proudly served in the U.S. Navy where he reached the rank of E-4 Airman. His service included involvement in the Cuban Missile Crisis and the Vietnam War from 1959 to 1965. In 1974, he graduated from Fordham University, where he made the Dean's List (Phi Alpha Sigma). In 1981, he formed Vista Horizon Realty in Central Islip, which he operated until 1996. He then joined M&T Bank as a Senior Loan Officer, focusing on mortgage lending, until his retirement in 2011.
Born and raised in Puerto Rico, Mr. Cintron joined the U.S. Army after graduating high school. He was stationed in Germany as a Combat Medic during the Vietnam War. After returning from active duty in 1965, he moved to the Bronx and took a position as a maintenance worker at John Jay Criminal Justice College. He later took and passed the civil exam for a New York City police officer. He was assigned to the 43rd Precinct in the Bronx, where he served as an undercover police officer for 22½ years. By 1983, he was promoted twice, to Detective and Detective Sergeant.
While serving with the NYPD, he joined the Army Reserves in 1974, serving in the Military Intelligence Unit as Chief Prisoner Interrogator. In 1989, he was an Interrogator and Military Advisor in the invasion of Panama. During Operation Desert Storm, he was stationed in Kuwait, where he was given special authority by the Secretary of Defense to be in charge of a detachment of interrogators. He was later promoted to Master Sergeant and quickly became Unit First Sergeant. He retired from the Army Reserves in 1994 and is the recipient of over 18 honors and medals.
In addition, Mr. Cintron serves as First Vice Commander for the American Legion Post 155 in Ronkonkoma and as a member of numerous committees, including the U.S. Congressional and New York State Veterans Advisory Committees, Disabled American Veterans Advisory Committee and the Sergeant Benevolent Association of the NYPD, among others. He also organizes many events, including the Christmas party at the Stony Brook Veterans Home.
The event coincides with Hispanic Heritage Month, a national observance celebrated in the United States from September 15 to October 15 to reflect on the significant contributions made by members of the Hispanic community as well as the diverse culture and traditions that have come together in our country. The start of Hispanic Heritage Month is September 15 to coincide with the anniversary of the independence of the following countries: Costa Rica, El Salvador, Guatemala, Honduras and Nicaragua.