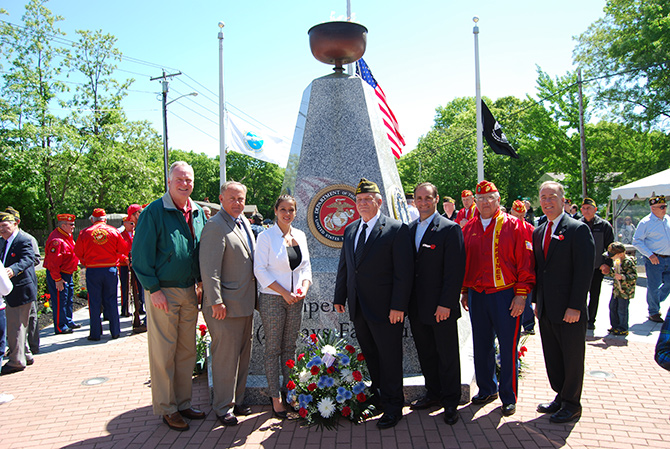 On May 23, the Village of Islandia commemorated Memorial Day in a special way this year as Mayor Allan M. Dorman announced the grand opening of the Col. Francis S. Midura Veterans of Foreign Wars Post #12144 during the village's annual Memorial Day ceremony.
The post was named in honor of the late Col. Midura, an Army Chaplain and Monsignor at St. Thomas More Church in Hauppauge who passed away in 2012. Col. Midura had previously presided over the village's Memorial Day and Veterans Day ceremonies, including the special memorial ceremony commemorating the 10th anniversary of the September 11, 2001 attacks.
Mayor Dorman, who served in the United States Marine Corps during the Vietnam War, established the post to give local veterans a place to meet and to thank veterans for their bravery and service. The post is located inside the Village of Islandia Commons on 1250 Old Nichols Road. The first meeting will be held on May 30 at 10 a.m.
The mayor joined village board members and local elected officials to recognize the local war veterans in attendance and to remember those who gave their lives for our country. The veterans placed ceremonial wreaths at the site of the memorial to honor the fallen soldiers. Members of the Lakeland, Hauppauge, Central Islip, and West Islip Fire Departments were also in attendance.
---
Photo Gallery