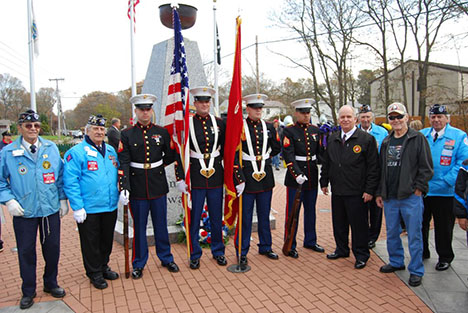 On November 10, the Village of Islandia held its annual Veterans Day ceremony at the Village Memorial Triangle. Mayor Allan M. Dorman, a Vietnam veteran, was joined by local elected officials, war veterans and representatives from the Central Islip, Hauppauge and Lakeland Fire Departments to honor those who served and continue to serve in the armed forces.
There was a musical performance by the Central Islip High School marching band and a presentation of the colors by local members of The United States Marine Corps. Members of Cub Scout Troop #270 in Ronkonkoma joined war veterans in placing a wreath and bouquets of roses in front of the memorial.
There was a moment of silence for U.S. Army Chaplain Monsignor Francis Midura, who passed away on July 30. Msgr. Midura presided over the village's Memorial Day and Veteran's Day ceremonies and the special memorial service on the 10-year anniversary of the September 11 attacks.
---
Photo Gallery