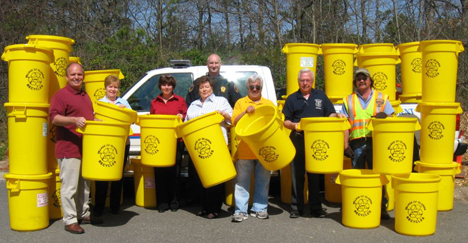 Earth day (Tuesday, April 22) was the kickoff for Islandia's new recycling campaign. In order to increase recycling in the area, the Village of Islandia has distributed new sunshine yellow recycling pails to village residents as part of its new initiative to further encourage recycling.
"Imagine looking down your street on recycling day and seeing all the bright yellow pails out in front of our homes. What a great way to send a message to our children and neighbors that we care and we recycle," said Allan Dorman, Islandia Village Mayor, in describing the inspiration for the program.
The color of the pails was chosen by the residents of Islandia. Intended to draw attention and encourage recycling, the pails will replace aged green pails many residents currently use.
"Our goal is nothing less than 100% resident participation in our recycling program. We must all do our part to encourage recycling and conserve the environment. We hope that other municipalities will join us in this effort," said Mayor Dorman.