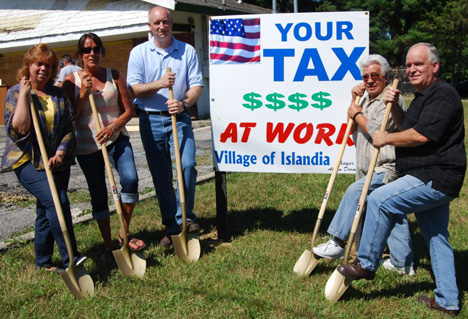 Site of Former Delicatessen Purchased by Village Will Provide Office and Retail Space, House Suffolk Police and Village Public Safety Unit
On June 30, Mayor Allan M. Dorman, Village of Islandia, joined village officials in a groundbreaking ceremony for the Village of Islandia Commons. The mayor has announced that the village has purchased the building that was the In & Out Deli, located at the corner of Old Nichols Road and South Bedford Avenue.
Mayor Dorman also announced that the building will be renamed the Village of Islandia Commons. In order to generate revenue, the village will lease out office and retail space to incoming businesses. An artist's rendition of what the building will look like was available for public view to the residents in attendance. The retail space will be occupied by a flower shop while a local business will move into the office space.
The building will also house Suffolk County Police and the village's Public Safety Unit in order to increase police presence in the area, since the building has high visibility along the main corridor, and to eliminate blight from the village which attracts criminal activity and drives down property values.