Company Celebrates New Location, Donates $1,000 to Village Activity Fund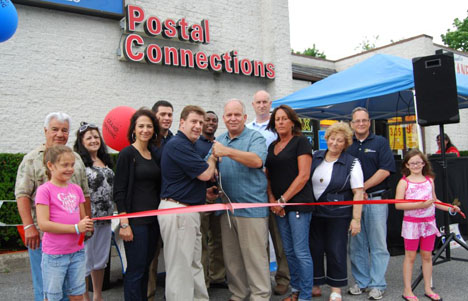 On June 25, Allan M. Dorman, Mayor, Village of Islandia, joined village board members and employees in celebrating the grand reopening of Postal Connections at 1930 Veterans Memorial Highway, Suite 12 in Islandia.
The company relocated from 1810 Veterans Memorial Highway, where it originally opened in May 2007. The new building now has an inkjet cartridge refill service and improved customer parking that allows easier access and a shorter walk to the entranceway. The new location provides greater visibility along the Veterans Memorial Highway corridor.
Postal Connections offers packaging, overnight shipping, copies and printing, mailbox rentals, fax services, Internet access, passport and notary services, and greeting cards.
Visitors and customers were treated to free food, drinks and music as they visited Postal Connections' new location. In support of the community, Louis and Teresa Colabella, Co-Owners, Postal Connections, presented Islandia Village Mayor Allan M. Dorman with a check of $1,000 for the Village Activity Fund.