Gas Station Donates $3,700 to Elementary School for New Playground Equipment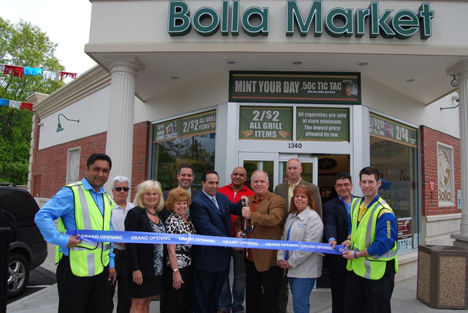 On May 14, Allan M. Dorman, Mayor, Village of Islandia, joined village board members and employees in celebrating the grand reopening of Motor Parkway Sunoco. The gas station underwent an expansion with the addition of the newly constructed convenience store, Bolla Market, and a new look with newly installed gas pumps and a paved blacktop. In celebration of the event, Motor Parkway Sunoco offered visitors and customers free hot dogs, sandwiches, drinks and ice cream.
Motor Parkway Sunoco is owned by Bolla Oil, which is based in Garden City. High Point Engineering, Inc. in Jericho was the architect for the project. Bolla Construction in Garden City built the new store and rebuilt the gas station.
In support of the local community, Harry Singh, Chief Executive Officer, Bolla Oil, presented a check to Betty Ceccarini, Principal, Andrew T. Morrow Elementary School, in the amount of $3,700 for the school to purchase new equipment for the school playground.