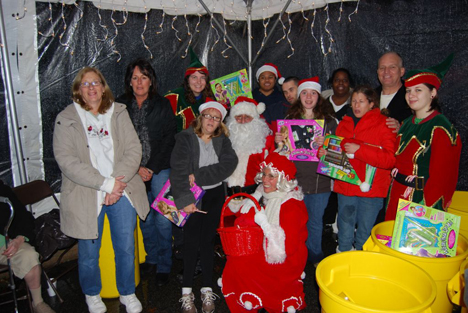 Allan M. Dorman (second from right), Mayor, Islandia Village, joins Santa Claus and participants at the 4th annual Christmas tree lighting. Mayor Dorman is also joined by Village Trustee Patty Peters (left), Deputy Mayor Diane Olk (second from left) and Village Trustee Suellen Leonardo (kneeling), a/k/a "Mrs. Claus." Santa had helping distributing the toys from his "elves," Amanda Hackford (back row, third from left) and Amanda Brinkworth (right).
December 14, 2009
Rain Doesn't Put A Damper on Islandia Village's Annual Christmas Tree Lighting
The weather outside was frightful, but that did not scare away Islandia Village residents who came to the 4th annual Christmas tree lighting on December 5. Residents stayed dry and warm with cookies and hot cocoa as "Joe The Singing Bus Driver" entertained the residents, playing his guitar and singing Christmas songs. Santa Claus hitched a ride with the Central Islip Fire Department inside their fire truck and came to distribute toys to the good boys and girls, with help from Santa's elves. Santa Claus also posed for pictures with the participants and village board members.