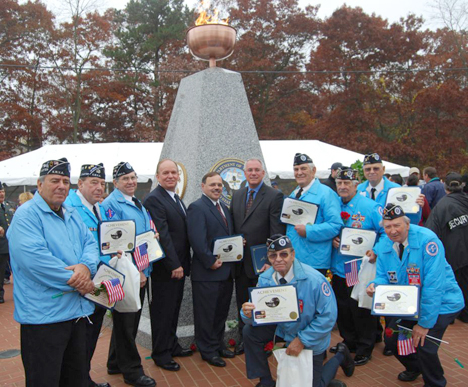 Allan M. Dorman, Mayor, Village of Islandia (left), Suffolk County Legislator Ricardo Montano (center) and Ross Cassata, a developer with Motor Parkway Associates and The Cassata Organization (right), are joined by members of the Korean War Veterans Central Long Island Chapter in front of the newly dedicated war veterans memorial.
November 8, 2008
Islandia Village Mayor Allan Dorman Dedicates New War Veterans Memorial
On November 8, 2008, Islandia Mayor Allan M. Dorman unveiled the new war veterans memorial that was built at the Veterans Memorial Triangle at Old Nichols Road and Johnson Avenue. Mayor Dorman, a Vietnam War veteran, thanked those veterans for their service to this country, and to the architects, designers and builders for getting the project done quickly and perfectly.
Mayor Dorman was joined by member of the Vietnam Veterans of America, U.S. Military Vets MC – New York State Chapter 1, Suffolk County Legislator Ricardo Montano and representatives from the Lakeland, and Central Islip Fire Departments, Boy Scouts Troops #3 and # 272 and Central Islip Girl Scout Service Unit #35 joined in the lighting of the eternal flame. Music was performed by the Central Islip High School Marching Band.
News 12 Video