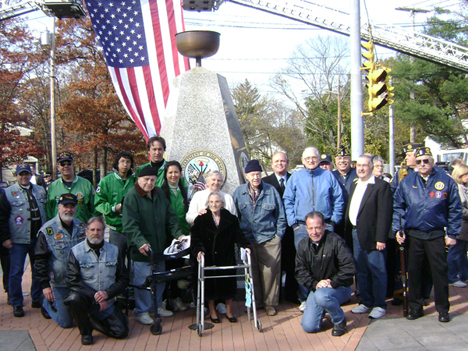 Islandia Village Mayor Allan Dorman (fifth from right) poses with local war veterans and residents from The Arbors Assisted Living in front of the Islandia Village War Veterans Memorial.
November 10, 2009
Islandia Village Honors Those Who Served at Veterans Memorial Dedication
The Village of Islandia honored its war veterans at a special veterans memorial dedication ceremony on November 7. Mayor Allan M. Dorman, a Vietnam War veteran, joined the village board in thanking those who served and those currently enlisted in the armed forces for their service. They also asked those in attendance to remember the soldiers that were killed in the massacre at Fort Hood, Texas on November 5.
Members of the New York Honor Guard, the Vietnam Veterans of America, the local Korean War Veterans chapter and the American Legion were in attendance, as well as residents of The Arbors Assisted Living facility and members of the Ghost Ryderz Motorcycle Club.
The Central Islip and the West Islip Fire Departments brought out their ladder trucks to proudly raise the American flag. The ceremony opened up with a musical performance from the Central Islip High School marching band.